| | | |
| --- | --- | --- |
| | G-H3 The "Vitality" Vitamin | |
It is important to feel good and to enjoy all the benefits a healthy, active life can offer. Originally developed for persons over 45 to protect against specific nutritional deficiencies that occur in aging individuals, many younger persons are now experiencing significant benefits from this dynamic, energy giving nutritional substance. Medical Research Products manufactures G-H3 in in our inimitable oral liquid formulation which is a more assimilable form than tablets or capsules. It is the best way to introduce this wondrous supplement into the bloodstream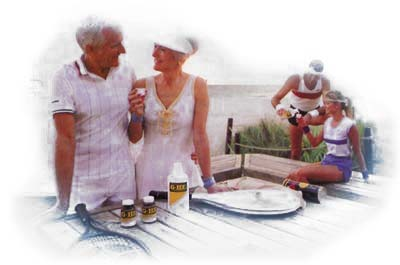 where it breaks down into the two beneficial nutrients.
GH3 is an antioxidant, anti-cortisol, oxygenator and a powerful weapon against stress. It dramatically improves circulation to all organs of the body, helps replenish diminishing nutrients and absorption of nutrients in elderly people and stimulates the body's own production of other bio-nutrients.  It can also be taken by young persons who wish to maintain optimum health and 'Well Being'.  It is a tremendous product for both students and athletes as it gives an incredible performance edge in physical and mental activities due to its nutritional metabolites. This health giving supplement increases appetite and desire, stimulates the body's production of other essential bio-nutrients and helps protect the body against harmful radiation damage.
Originally referred to it as vitamin factor H3 because it's active ingredient, procaine hydrochloride, breaks down in the bloodstream into two bio-nutrients that naturally occur in the body but become deficient as we age; para-aminobenzoic-acid (PABA) and diethylaminoethanol (DEAE). As a result of these two metabolic byproducts of procaine, G-H3 possesses a dual nature and accordingly delivers dual nutrient benefits.
PABA is an important member of the "B vitamin family. According to The Nutrition Almanac: PABA favorably affects glands, hair, intestines, blood cell formation, protein metabolism and all function of the skin. PABA also stimulates manufacture of other essential vitamins, such as B1, K, folic acid and pantothenic acid."
DEAE is a building block of two body substances important to the central nervous system: choline and acetylcholine. Both are parts of the body's stress reaction system and are important in memory functions. DEAE has been proven to produce mental stimulation, mild euphoria and has a positive effect on mood states.
G-H3 is even greater than the sum of its two breakdown parts, as equivalent doses of PABA and DEAE separately do not absorb as well as the buffered, stabilized procaine molecule. The procaine molecule – when buffered in the GH3 manufacturing process – is a more readily assimilable form of these nutrients as they absorb more completely into the bloodstream reaching important sites in the brain or in individual cells which may not ordinarily be permeated by PABA or DEAE and then converted to these vitamins.
G-H3 aids the body in a widespread range of anabolic activities (buildup and repair of the entire organism). It favorable affects all cells and all systems of the body; the circulatory system, the nervous system, the endocrine system, the gastrointestinal system, the muscular-skeletal system and the immune system. It has positive effects on; the heart, skin, hair, nails, body tissues, memory functions, moods, dispositions, intelligence, energy (physical and mental), joint function, protein synthesis, cellular integrity, sexual performance, hearing, eye sight and sleep patterns.
Also known as Gerovital H3 or just Procaine Therapy, hundreds of scientific reports, articles and books all over the world have reported many fascinating things about G-H3, We can not report these accounts in this literature, but encourage you to research the information for yourself. What we can tell you is that tens of thousands of people are actually taking G-H3 and a majority of the users claim to look and feel better, have renewed energy and experience an improved outlook on life.
In 1982, we surveyed 463 customers who took our oral liquid G-H3. 176 patients (38%) rated the treatment excellent, 181 (39%) rated the treatment very good, 56 (12.1%) rated the treatment good and only 50 customers (10.8%) were dissatisfied. Conversely, 89.2% of the customers were satisfied. The patients reported renewed vitality, heightened sense of well- being, increased energy levels, greater mental acuity and alertness, improved sleep patterns, happier moods and more pleasant dispositions, improved fingernail and hair growth, better overall health, and more youthful appearance.
Taken as directed a 32 OZ Bottle of G-H3 will last for 3 months.
Extra dosages can be taken episodically to meet extra health challenges, instances of great physical or mental stress, or for physical or mental performance enhancement such as going to the gym, performing in an athletic competition, taking a test or giving a speech.
Dietary Supplement use only. This product is not intended for the cure, mitigation or prevention of any disease. The FDA has not evaluated these statements.
Role of Antioxidants against Viruses, Bacteria, and Germ Warfare