Product Quality & Manufacturing Conditions
Our Goal is Quality
GH-3 The "Vitality" Vitamin
We are the exclusive manufacturer of the highly assimilable oral liquid G-H3 which absorbs much better than tablets or capsules.
Learn More
Our policy and goal is to provide the very best quality nutritional products, whether it is a product that is manufactured in our laboratory or a product that we distribute from other manufacturers.
Product Quality
In addition to providing unique products, such as Cantron, Hydrazine Sulfate,  oral liquid G-H3, and our newest product ZQ Immune, or products that are readily available in the market, top quality is always our goal.
We will never compromise quality for economy. Only the finest grade of raw ingredients available will be used in the products we manufacture or distribute. The highest specs will be chosen in almost every  instance. Despite having the highest quality products on the market, we work to keep the prices competitive and affordable.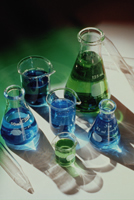 Manufacturing Conditions
The laboratory of Medical Research Products is regulated and inspected by the Florida Department of Agriculture and the Federal Food and Drug Administration (FDA). All steps to insure product quality, safety and sanitary conditions are administered in our laboratory.
As a dietary supplement manufacturer, the regulations we are governed under  require making our products under Good Manufacturing Conditions (21 cfr).
Refund Policy
All unopened products are refundable (seal can not be broken). All Products manufactured or bottled by MRP under its own label carries a 100% money back guarantee on your first bottle (shipping charges excluded) ! You can return the opened product and receive a full refund. Products that have other manufacturer's labels are refundable only if unopened.
Regarding international orders:  It is your requirement to know the import regulations of dietary supplements in your country. if an international package comes back for any reason other than through fault of her own, we can only refund the return of the product and not the international shipping charges. We will fill out claim on your behalf and if any monies are received, they will be refunded directly to you.